Contributed by Tonya Moreno
It had been a year since Mistletoe Joe had passed away. The holiday season was starting and the people of Mistletoe Valley were wondering exactly how different this year would be without his bright shining Christmas spirit. So far, they weren't doing a good job with him gone. They were trying to get into the Christmas spirit, but it just didn't feel right without him. The Christmas carols were being sung and presents were being bought, but not with the same cheer as years before when Mistletoe Joe was bouncing around town.
One afternoon on December 24th, a mysterious present showed up in the middle of the town square. This wasn't just any present. It was huge and wrapped tight with a beautiful bow all nice and neat. Next to the bow was a tag that had a message written on it.
Dear Mistletoe Valley,
I hope you are keeping my spirit alive. Christmas was my favorite time of year as it always brought me so much joy to be your Christmas Elf. I wish I was there for you this year to continue spreading the cheer! Maybe after this year, it will be a little better to celebrate without me. But I am sending you this gift to help and carry on the Christmas spirit for years to come. You must complete these tasks and by Christmas morning you will be lifted in the Christmas Spirit. So go ahead and open the present to see what's inside.
Signed Your Christmas Elf,
Joe
The town didn't know what to think. Should they open the present? How did he send a present when he isn't even here? What are these tasks he wants us to complete and will doing them really lift our spirits? As the townspeople were asking these questions, the mayor showed up stating that he had just received a letter from Mistletoe Joe and he needed to read it to everyone once the present had been opened.
Inside the present they found paper snowflakes, bells, candy canes and of course mistletoe.
He read the letter aloud.
Here is the list of tasks to do after opening the present.
Task 1 - Play in the snow and make snow angels: This is to remind you that we are all kids at heart. This is also to remind you that although we are each unique just like a snowflake, that together we are beautiful.
Task 2 - Sing Christmas carols with the bells: This is to remind you that the sound of a bell can mean many things, but during Christmas it reminds us of the church bells ringing in celebration of all the feasts that will be shared as a family.
Task 3 - Give a candy cane to your neighbor: In the spirit of giving, take a minute and visit with your neighbor and take the time to spread the cheer of the season.
Task 4 -Use the mistletoe to give kisses freely: This is to remind you that all we need is love. Love is what makes this season so wonderful.
I hope that this will lift your spirits and remind you the reason for the season. Christmas is such a wonderful time of year, and I wish I could be there still with you.
Mistletoe Joe.
Once the mayor had finished reading the list of tasks, all of the different gifts were handed out to each person. Each one of the townspeople took a minute and looked around at each other not quite sure if they were up to this. Then one by one, you could see people falling onto the ground and begin making snow angels. Laughter and jolliness erupted in the hours that followed. The Christmas lights seemed brighter, the snow whiter and the carols were louder than they had been before.
All thanks to Mistletoe Joe again!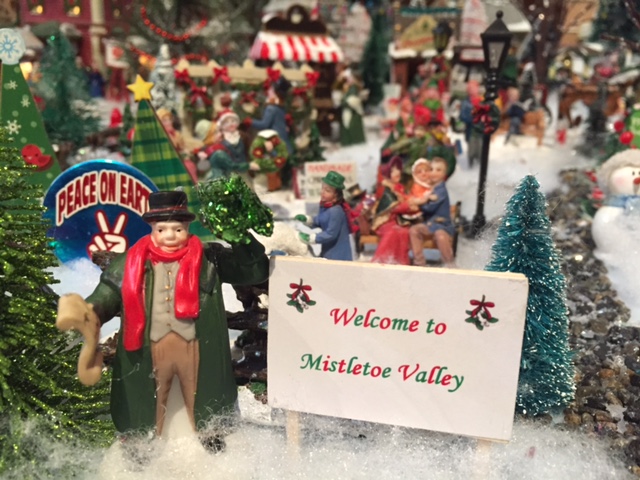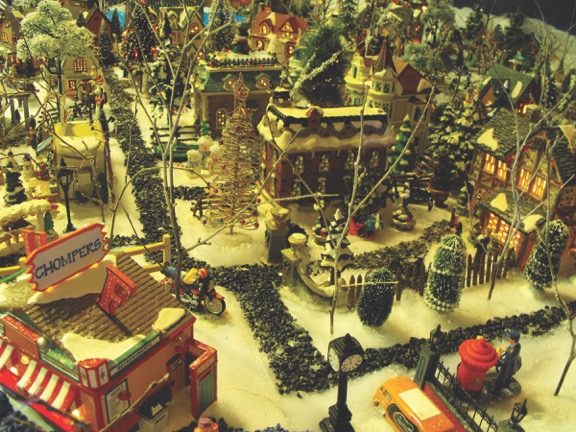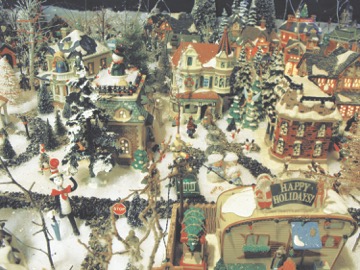 Read on to see Mistletoe Valley's article from last year:
 
Mistletoe Valley Miniature Village: On Display At Dorothy Page Museum In Wasilla Through January
In a little town in the outskirts of Wasilla there lived a man named Mistletoe Joe. He was a kind man who earned his name based on his overwhelming Christmas spirit and his tendency to carry around mistletoe during the month of December, always quick to put that mistletoe up to receive an innocent kiss from the townsfolk. Christmas was his favorite time of year. He loved every part of it.
A lot of the people in the Valley thought he was a little crazy but being that it was Christmas would never say anything about his insane Christmas cheer. He was always one to break out the Christmas Carol in the town square all by himself but of course by the end of the song everyone had stopped what they were doing and joined in. Mistletoe Joe was the town's Santa Claus. Every Christmas Eve he would put on the bright red suit and walk down to the town center and hand out candy canes to the children telling them to go on home and be good little boys and girls so Santa could come and leave them that special toy. "Don't forget to leave out the cookies for Santa!" he would yell after them.
This happened for years, so much that children who had grown up seeing him on Christmas Eve brought their kids and families back every year just for Mistletoe Joe to hand them that special candy cane. He was the reason so many people enjoyed Christmas in this town.
As time wore on Mistletoe Joe began to get older and his health began to decline. He would never let anyone else know how sick he really was. He didn't want to break their Christmas spirit and let everyone in the town down.
December came around as it always does every year and everyone was excited about putting up their lights and getting ready for the festivities, however there was something different about this year, Mistletoe Joe was not running around town with his mistletoe in hand and no one had seen him in the town center singing Christmas carols. Everyone was saddened because he was the reason Christmas was so much fun.
The Mayor decided it was time to make a visit to Mistletoe Joe's home. He was not prepared for what he found. Mistletoe Joe had passed away in his sleep. The Mayor found a note on the kitchen table. It was written by Joe.
Dear townspeople:

I have always enjoyed being your Christmas Elf. I never did it for any recognition. I did it so everyone could love Christmas and enjoy it as much as I did. Christmas is never about how many gifts you receive; it's about the joy you can bring to someone else. It's the feeling that you get when you know by the end of the Christmas carol you turned that person's entire day around.
It's the smile on the child's face when you hand them that candy cane. I will always be with you in spirit. Please keep Christmas alive in your hearts.
Love,
Mistletoe Joe.
The Mayor took the letter and called everyone to the town center. He read the letter aloud and made a proclamation, the town's name will officially be changed to Mistletoe Valley in memory of Mistletoe Joe.
So come by and see a Mistletoe Valley and get that Christmas spirit that was left by Joe!